1. Damage-picture from the dry rot Serpula lacrimans
Form 1: Brown die-break, approximately like sugar-dice big, breaks crosswise to the fiber
The brown-rottenness (Destruktionsfäule) is characteristics. This fungus has at the degradation of cellulose specialize. This remains Lignin, which does a brown look have. Injured party wood has cubical dice at wood-surface with usually 2 cm of crust-length. The die-fragility is dark brown until shining.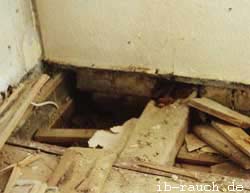 Form 2: The blanket-great commissure-head is destroyed from the forehead-plain through the real house-sponge.

If the great commissures becomes wash round well from air, so a growth takes place only in the wood-inside (picture 2). With board-nicely obstructed wood, this round form arches after outsides, with for example attacked door-frames (picture 3) or socket-disguises out of wood gives it an easy curvature, that is to often be recognized only by flaking off of the color. With optimal and long ongoing affection, the complete destruction of the wood-construction occurs. Through the masked damage-expansion, the damages only relatively late are recognizable and can have gained (picture 4) already a big scope. Still typically for the wood-destructive fungus is the fruit-body and the qualified dirty gray mycel.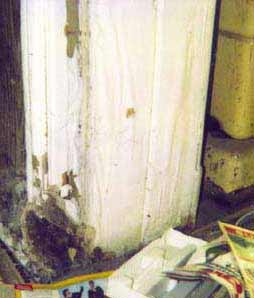 Form 3: House-sponge in the doorframe, curvature of the boards.
The real house-sponge is purely one, it attacks saprotropher fungus, that is called, dead and obstructed wood.
Destruktionsfäule: By the degradation of the cellulose of the wood, the reason-structure of the wood is destroyed. The brown lignin remains. Rips are created in the wood to the barrel-erection crosswise. The wood loses solidity and it can derive no more the strengths.
Corrosion-rottenness: By some fungi, the lignin first is reduced (later often also the cellulose). The white cellulose remains (white-rottenness). The lignin is stored into the cellulose-framework to the stronger solidity of the wood of the plants. At this wood-destruction, the structure therefore remains gotten most extensive, and the wood becomes only woollier.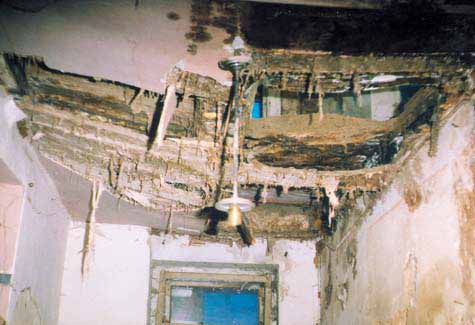 Form 4: More extensively damage to a wood-great commissure-cover, from the upper side, this damage was noticeable only through the rolling of the floor. An oven and a heavy plotter still stood on the cover.
Form 5: Here, an old fruit-body (2) with dark spores is on the picture, an again respectively vital fruit-body (1), to recognize with white increase-fringe and Myzel with small fruit-bodies (3) (need-fruit-bodies).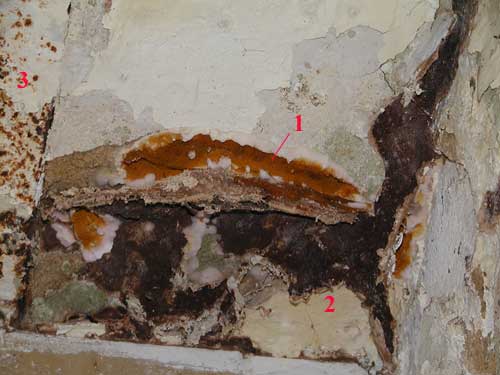 Page: 1 2

3

4 5 6 7 8 9 10 11 12 13 14 15 16 17 18 19 20 21


---
© ib-rauch.de | E-Mail | 10/2005