5.2. Macroscopic fungus-provision
A macroscopic examination of the fungus-type requires a professional sampling and the judgment of the damage-surroundings. All characteristics, as the location, factory - respectively construction-materials, climate-conditions and also the time-elements, of the affection, to grasp completely, is. It is as many as possible distinctive features to determine. The fungus-provision never should be supported only by a characteristic.
Wood and fungus-tests, that are not taken expertly, don't make any sure evaluation of the damage possible. In the practice, usually simultaneously different wood-destructive fungi occur. The fungus, that finds optimal life-conditions presently, dominates on that occasion.
Some fungi form a fine mycelium in the and also on the wood as well as at the adjacent fill or at the stonework. The fruit-bodies, that can look quite different even with the same type, for example darkness-fruit-form, are another difference.
The different fungi prefer certain wood-types.
There are also some simple physical checkup-methods:
Healthy wood has a light sound, sick sounds dull.
Pilzbefallenes wood picks up fast waters (hygroscopic). With sleek wood, one can recognize the difference so.
The pressure-proof-ness of attacked wood is lower. This leaves itself through stabbing with a knife, screw-turners or through tests of drilling (Bohrwiderstandsprobe) determines.
If the wood with ammonia becomes, Sodaleach or lunar caustic drenched, so the attacked wood changes color differently than the healthy one.
There is a series of wood-destructive fungi, that destroy the wood-inside of the great commissure to first. From outside, no damages are recognizable. If the wood-surface was equipped with a fungus-unfavorable wood-preventative, so the affection can also take place through not typical kernel-rottenness-fungi, into which these of the unprotected forehead-plain grow.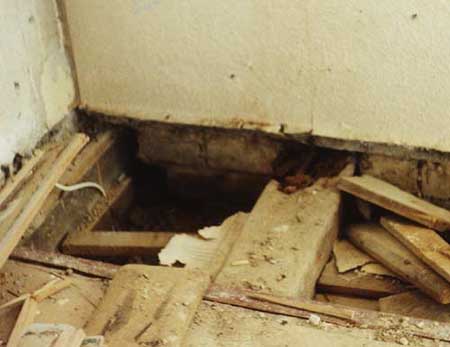 A typical rottenness-picture of a blanket-great commissure, the affection takes place from the forehead-plain from.
Page: 1 2 3 4 5 6 7 8 9 10 11 12 13 14

15

16 17 18 19 20 21
---
© ib-rauch.de | E-Mail | 10/2005