- Share 2 -
(partially 1)
Into buses, it is demanded from 0,8 h-1, after what no mold-formation comes, on a minimum requirement for air-replacement in apartments. The same ventilation-part payment respectively somewhat more was demanded from me in a balance brought forward already 1994.
Mr. Prof. Dr. Hausladen held 1997 the view that no mold-formation is performed during continuous observance of air-change-numbers of 0,2 to 0,3 h-1. The Dichtmachen of the buildings is the right way in order to turn off the weather-influxes. For the more inferior ventilation, it was explained different arguments, as that the limiting values of the olfactory-delivery (unit of measurement olf) are hardly gained and 50 per cent of the people an air-volume of 5 m3/h is enough. It ASSOCIATION OF GERMAN ENGINEERS sees 30 m3/h before. Mrs. Prof. Dr. Eicker looked at an air-change of 0,3 to 0,4 h-1 plus an assumed unchecked ventilation, that is 0,5 h-1 as sufficient. (In the acticle about the atmospheric humidity, it is compared with the ventilation-part payments, and it becomes clear that these are not enough.) Here, it is argued with the high ventilation-heats loss to check it with the denseness-examination of Blower Door-Verfahren is. After the EnEV, the ventilation-change-part payment is at exhaust air-primordia with a window menu-ventilation between 0,6 h-1 with proof through the Blower Door-procedure and without proof with 0,7 h-1, the values are between 0,45 and 0,6 h-1. Through the EnEV, the necessary ventilation-change-part payments don't follow the hygienic requirements but after plant technology possibilities.
(Comment: Dew-water-damages cause an unchecked ventilation by pillar-construction-walls because of from steam-convection at the wood-construction as well as considerable heats loss and should also be avoided in this case.) Mr. Prof. Dr. Hauser explained 1999 that the energy consumption increases (be valid only without heat recovery) itself with an increase of the air-change-part payment about 0,1 h-1 about 7 kWh/m2a in each case. With this intended hygienically necessary ventilation-part payments of 0,8 h-1 this correspond to 56 kWhs /m2a. More inferior ventilation-part payments of 0,45 h-1 yield only 31,5 KW/m2a on the other hand, then, the relationship to the transmission-heats loss doesn't precipitate quite so blatantly. An ultra-low-energy-house should require only 30 kWhs/m2a, and a Null-Heizenergiehaus manages on 16 kWhs/m2a. Here, however, one forgets some that however one with the documentation of a project about low-energy-houses (BINE V). 1.5.98, in a graphics very clearly sees. (Unfortunately the bar charts with the absolute values contradict themselves so that a mean value had to be formed.) At the 9 houses, the heat loss lies in the cut through ventilation with 60 per cent and this corresponds to 70 kWh/m2a. In the result, it is spoken of an air-change of 0,8 to 1,3 h-1. The already named value is confirmed with it. The transmission-heats loss lie with 46 kW/m2a and an unit of heat-transfer = 0,36-0,4 W/m2K. Independently from it, that efficient energetic solutions must be looked for, the problem disturbs "ventilation" because all beautifully reckoned results don't rise with it. Why one then should stick 20 or more cm of Dämmwolle at the facade, if about with this heat insulation-strength. this 4-fold the heat loss through the ventilation alone originates. Therefore, the ventilation-part payment should be as small as only possible. Then, the circumstances are correct again. Of course, one can through a heat recovery, as it is in the industry for a long time known, through same, counter, or cross-stream-law cases, achieves. With this technology, a part of the ventilation-heat loss can be reduced. The effectiveness is dependent on the function-sage and the building-size as well as their utilization. Here it only is noticed, that these primordia of a continuous maintenance are subject to, otherwise they can turn fast into hotbed of microorganisms.
It actually is about something else, around political goals and yielding a return businesses. It is used arguments scientifically, that are supported by uncertain arithmetic-models. Becomes simulation the climate-catastrophe with these, the greenhouse-security, that justifies Erwärmung of the earth together with smelting of the pole-bonnets. (To this a small composition from contributions to the technology and natural science or the weather). Everything serves this Super-business with the heat insulation, windmill-stream or the uncritical tax increase. (With what seriously to take environment-problems are on the agenda and that must also be solved. But one tries to inspire the population again and again with fear through threats in order to push through commercial interests.)
The relationship from transmission-heat-loss to the insulation is no straight but a hyperbole and finds its (energetic) efficiency in the area with an unit of heat-transfer with 0,5 to 0,4 W/m2K. This will thicken storage-capable massif-walls or a insulation with sufficiently, from few centimeter (5,5 to 12 cm of optimum with 8 cm) reaches. With 5,5 cm of heat insulation, the same yielding a return effect is had, as thickens heat insulation with a 12 cm.
It becomes clear in the following graphics, the smaller the unit of heat-transfer becomes, the necessary (dam) expenditure is all the bigger. The unit of heat-transfer is an exponential-function y = x-a. This function is used for the mathematical acquisition of repletion processes, for example. The yielding a return and technical optimum is at this curve about the unit of heat-transfer of 0,5 W/m2K. With the hygienically necessary ventilation, heats loss appear. This lets itself into a function y = n (a horizontal line) represents. In this graphics, this is marked as brightly gray area. The size sits down from the energy-content of the air, Mollier h, x-Diagramm, compares) and the actual ventilation-part payment (sum from controlled and unchecked ventilation) together. The inclusion admittedly is not perfect physically since it is about different sizes. However, it can be represented the problem of the repletion so graphically. Whether the equivalent energy-loss of the ventilation now corresponds to an unit of heat-transfer 0,2 or 0,17 W/m2K should be there-filed. Despite a super-heat insulation, the unit of heat-transfer cannot lie under 0,2 W/m2K in the practice with it. If the theoretical unit of heat-transfer lies with 0,25 W/m2K, so the practical unit of heat-transfer amounts about. 0,4 W/m2K, from 0,17... 0,2 + 0,25.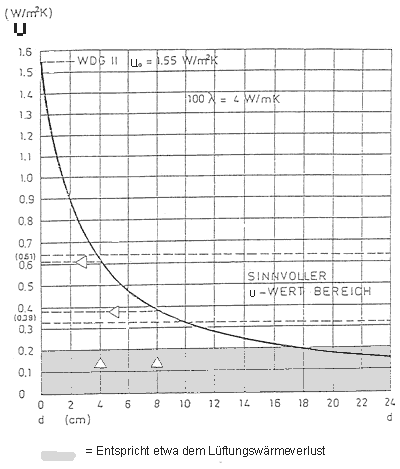 Why should unnecessarily much heat insulation therefore be installed at a house-wall? A super-heat insulation doesn't bring any appreciable saving of energy. The transmission-heats loss lie approximately in the above named yielding a return area with the ventilation-heats loss like. Installed become 20 or 40 cm of heat insulation at the outside-wall, so the ventilation-heats loss would become about. amount 80 per cent of the required Heizenergie. The additional cost-benefit-relationship then is not given anyway. For example, it became in the consignment of the mdr.de introduced in the consignment of Mr. Escher at the 8.3.2007 (20.15 o'clock) a passive-house. The rebuilding of the old building, 30 cm of outside-heat insulation heat recovery etc..) cost 75.000 Euro. It became energy instead of until now 5000 Euro / year on 1000 Euro / saved year. A loan of 75.000 Euro causes interest. Independently from bank-conditions, an investment-time limit of 20 or more years is available here. In this time, additional maintenance-working accrue as well as a partial substitute of the measures becomes necessary. Such a capital spending is business management absurd. Also the ecological points of view are justified not here. Everyone Euro represents a value of a service provided, that comprises a certain share of energy. Also subsidies (or firth-means named) are the result of a service provided, the already used energy comprises. (It should be saved energy already with spent energy.) In order to abbreviate these topic at this position since it is treated extensively at other positions, there are many moderately priced energy-saving measures with high efficiency.
The ventilation-heat loss results from the temperature-difference and from the fact once that comprises each moist air a certain energy-volume, that rises with same temperature and increase of the relative humidity.
So, an air with 10ºC and relative LF has 50 per cent 20 kJ, for example, / kg, with 70 per cent is the 24 kJ/kg. An air with 20ºC and a relative LF 50 per cent 39,5 kJ/kg and with 70 per cent is the 47,5 kJ/kg. The absolute humidity with 20ºC is not quite in duplicate so big, as with 10ºC. The energy-content of the air is so big approximately double. There is an approaching relationship with it. Since the room temperatures are approximately in an apartment 20ºC and many other influential factors work, it is secondary, whether is aired with 19ºC or 21ºC. From the Mollier-h, x-Diagramm can be inferred also from no clear preference of a certain relative Luftfeucht, (50 per cent or 70 per cent) where should be aired the most favorably from the energetic view. However, fact is that energy, that is element of the moist air, is out-aired with every ventilation-replacement. If the lowering adds the room temperature at the ventilation on top of this if the outside-air-temperature is lower.
Case in point ventilation-heat-requirement at a single-family home
With the EnEV, one undertakes the attempt the human being to be into a thermo-container. The single leaky position with one thermo-mug, where heat escapes, is the opening. Therefore, this must "be corked" neatly with double lip-poem. In order to save at most energy, it cannot be aired on any case, otherwise the arithmetic-model works after the unit of heat-transfer-Method not.
A design formula, to how much less health a saving of energy of so and so many kilowatts of Heizenergie corresponds, doesn't let itself position surely. Even if one would raise statistics, which citizens through an allergy or similar illness in consequence through mold, contaminant, or jam-encumbrance of more inferior ventilation-number concerned is, the health with no yielding a return order of magnitude lets itself measure or also assess. Surely there is to some bureaucrats, who create also this, after its colleagues already established, which DIN-Norms, Specifications umd other to the the "acknowledged rules of the technology" belongs (see § 15 of the EnEV). Experience-knowledge is suspended administratively with it.
Now, it should not be advertised for a law-violation here, even if case of hardship-paragraph passes the possibility of the exception after this, but everyone should think for itself whether a small contribution to charity rather is more useful into the ailing treasury in form of a fine or whether one risks its own health per specification.

- Check list - measures, to avoid about the frequent ventilation

Sources:
[1] Krüger, A.; Interview with Prof. Herbarth UFZ in hello Leipzig of the 30.7.05, the joke about the fine-dust-wars on the street